Terrorism is not new, and it has been used since the beginning of recorded history. Terrorism has become a part of modern life, but it is hard to define. The FBI uses this: "Terrorism is an unlawful use of force or violence against people or property to achieve the goals that are generally political, religious, individual, criminal or ideological".
But the main motive is to put public in fear. Terrorism has often been an effective tactic for the weaker side in a conflict. Hijackings, bombings, killing, capturing hostages and cyber attacks (computer-based) in different countries may seem common nowadays.
Each act of terrorism is a "performance". The plan of terrorists is to obtain immediate publicity, that's why they target highly symbolic places, such as: government offices, banks, national airlines, airports, etc.
All these places are full of people from different countries.
The effectiveness of the terrorist act lies not in the act itself, but in the public's reaction to the act. For example, in 1972 at the Munich Olympics, the Black September Organization killed 11 Israelis [iz 'reili]. The Israelis were the innocent victims. But the true target was 1 billion people watching the event. Terrorists plan their acts to produce a psychological effect ("terror"). So the audience becomes their target more often than the actual victims of the act.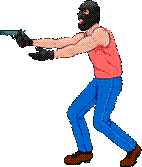 One of the most harmful types of terrorists' attack is hijacking on the plane, which usually leads to bombing the plane in the air. Another type of plane bombing is called the "Suicide Bomber" (this is a terrorist who carries the bomb on his body). It is very difficult to stop them from boarding the plane, because you can't see it by the human eye and metal detectors don't identify plastic explosives.